Filter Reviews
Instructions
Shipping
Quality
Griddle
Husband
Customer Service
Wife
Cooktop
Flat Top
Holes
Kit
Food
...
Pan
Cooking
Investment
Meals
Grill
Gift
Cleanup
Breakfast
Cover Board
Cutting Board
Stove
Seasoning
Instructions
Shipping
Quality
...
Griddle
Husband
Customer Service
5.0 star rating

4.0 star rating

3.0 star rating

2.0 star rating

1.0 star rating
Jennifer N.
5.0 star rating
Best birthday gift ever!
Review by Jennifer N. on 23 Mar 2020
review stating Best birthday gift ever!
My husband and I love this!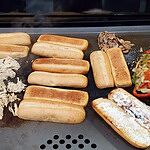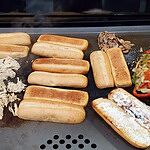 Don't hesitate! Worth the purchase!
Review by Stacy A. on 4 Aug 2020
review stating Don't hesitate! Worth the purchase!
I love this griddle! It is so convenient to use. Cooking meals is fun again! I have a 5 burner gas stove, I can use all 5 or just the 4 burners depending on what I am making.
I love it
Review by Anita G. on 3 Aug 2020
review stating I love it
I love it
Transformed my kitchen into my own diner!
Review by Steve W. on 3 Aug 2020
review stating Transformed my kitchen into my own diner!
My wife purchased the Steelmade Pro kit with the walnut cutting board. First night with it setup, the recommendation was to cover it in bacon to kickstart the seasoning process. That was birthday gift #2, who doesn't love a plate of bacon? Since then I have made family breakfast with bacon, sausage, hash browns, eggs several ways and flapjacks. I've made steaks, smash burgers, pub burgers, chicken cutlets, stirfry, more breakfast. This flat top has been on my stove top for nearly 2 weeks and I'm loving it. Less dishes every night and cleanup of the flat top is super easy. It's almost like I'm back in a commercial kitchen! The quality of everything it came with is fantastic. And the cutting board makes for a wonderful prep area on top of the stove that I've never had before.
Excellent product
Review by Jason M. on 31 Jul 2020
review stating Excellent product
Main product I purchased (the steel flat top is fantastic. I can cook an entire meal on it no problem. The board is huge and I love the size of it! Fantastic addition to my kitchen.
Q: Can I use pots and pans on this to cook broths, rice, etc.?
A: Small pots and pans can absolutely be used on top of the Flat Top for boiling water or making sauces.

We do not recommend using larger pots to boil water directly on the Flat Top for two reasons. First, it is far less efficient than placing the pot directly on top of the burner and will take much longer to bring the water to a boil. Second, the large pot of water can act like a "heat sink" pulling a tremendous amount of heat from the Flat Top and possibly warping the steel temporarily.