5.0 star rating
10 Reviews
Very Happy with our flat top and customer service!
Review by Samuel C. on 7 Apr 2020
review stating Very Happy with our flat top and customer service!
We've had our flat top Jr. for a few weeks now and are very happy with the decision. We got the Jr. so we could always have two burners available for pots of water and we find that the size accommodates our needs quite well.

Our shipment was initially missing the starter kit materials but they were promptly sent as soon as I e-mailed and confirmed that they had not been delivered. The spatulas are very sturdy but I feel like they are a bit too thick for things like fried eggs. Maybe a thinner metal for the flat end or just grinding a tapered edge would really make a big difference but this review is MOSTLY about the flat top anyway.

We use cast-iron cookware almost exclusively so the transition was quite easy. I can't overstate their recommendation to use LOW heat. We rarely need to turn any burner up more than medium-low and it is a VERY good investment to buy a small infrared thermometer to keep track of how your burners are heating the top.

I was impressed by the build quality of the flat top, the only difficulties one could run into is configuring your stove top just right to get everything where it needs to be. We have a Samsung gas 5-burner with the middle griddle burner which works great for the flat top but made it impossible to get the drip tray in the right position. I e-mailed Steelmade about our situation and asked about the triangle shaped drip tray. I wish I thought of this before they had shipped our missing items and I could have had the new drip tray sent with that shipment. We live in Alaska so the shipping options were limited and not cheap however, Steelmade just sent us the triangle drip-tray at no charge and it has made all the difference with the layout of our stovetop. Very happy overall!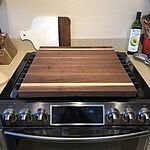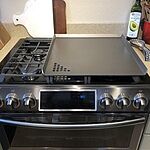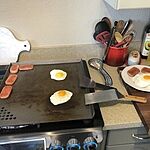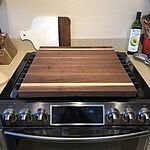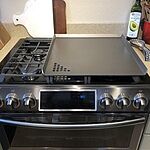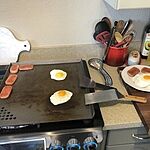 I love this thing, my
Review by Jimmy J. on 12 May 2020
review stating I love this thing, my
I love this thing, my house is waffle house now. 🤘🏼
Haven't used a skillet since
Review by Allen R. on 29 Apr 2020
review stating Haven't used a skillet since
Really enjoy and use the flattop, we haven't used a skillet or pan to cook anything we have been able to cook on the flattop. The whole family is enjoying the food
Benjamin E.
5 star rating
Flat Top Jr.
Review by Benjamin E. on 24 Apr 2020
review stating Flat Top Jr.
I love this thing!
Steelmade flat top jr.
Review by James K. on 23 Apr 2020
review stating Steelmade flat top jr.
Awesome product! Unit fits perfectly On stove top. Used several times with great success. Need to make sure you season the unit so food doesn't stick. Look forward to cooking many recipes!!