Filter Reviews
Heat
Tray
Use
Cooking
Meals
Lip
Griddle
Grill
Steel
Grease
Steelmade
5 star rating

4 star rating

3 star rating

2 star rating

1 star rating
My husband loves his pro
Review by Diana G. on 6 Jul 2020
review stating My husband loves his pro
My husband loves his pro series! Now that it's seasoned the food is so delicious! Please keep in mind that this is extremely heavy! So collect on that friend favor and get some help when lifting it.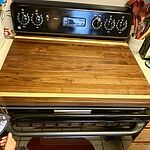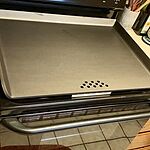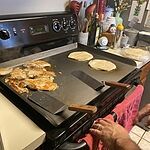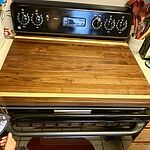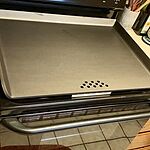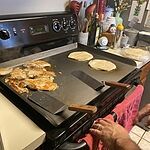 So far so good. Am
Review by Bruce R. on 26 Jun 2020
review stating So far so good. Am
So far so good. Am now in the process of seasoning it. This Pro Griddle is exactly what STEELMADE said it was on its web site. Yes it is very heavy - but once in place it's there to stay - does not move around on the stove top like some of the competitors "less robust and lighter griddles". Cooking breakfast is really easy - AND VERY TASTY - have not yet cooked a dinner meal as I'm still learning where the hot and less hot spots are. Am looking forward to many many years of use with this griddle! Thank you STEELMADE. this is a great (so far) product!!!!
I LOVE this griddle! I
Review by Khris L. on 26 Jun 2020
review stating I LOVE this griddle! I
I LOVE this griddle! I haven't taken it off myvstove since I got it.I have always wanted to be able to cook Hibachi style meals properly. The vegies don't get soggy like they do in a pan or wok. The walnut cutting board topper is absolutely gorgeous! I will continue to recommend Steelmade to everyone.
Jeraldine W.
5 star rating
Grill is excellent except for
Review by Jeraldine W. on 15 Jun 2020
review stating Grill is excellent except for
Grill is excellent except for grease pan It fills to quickly, however the mini loaf pans work well
Love it
Review by Hugh D. on 13 Jun 2020
review stating Love it
Love it
Q: A couple of owners have already commented on it but why is this not made with a front lip on the leading edge? I was ready to buy but now reluctant as I see this as a potential flaw in an otherwise great product.
A: Thanks for writing in! People often ask why the flat is front in the first place. We did a lot of design work on this product and tried to combine the best parts of a regular skillet and a traditional griddle. Having the flat front promotes airflow to keep food from getting too moist and mushy. It's the magic that makes crispy hash browns so hard from getting soggy in a regular skillet.

It's also much safer to reach over to the back of the Flat Top when cooking to prevent burns. There are manufacturing limitations that prevent a tiny lip at the front as some have suggested. It's either a relatively tall sidewall or nothing at all.

It's possible to put 10 pounds of greasy beef in the middle of the Flat Top and walk away and grease would probably run off the front. However, thousands of meals ranging from burgers and bacon to piles of vegetables for fajitas and stir-fry and have been cooked on Flat Tops in our homes and it's never been an issue.

The enormous surface area of the Flat Top allows grease to spread very thin instead of pooling up like it would in a smaller skillet or pan. This prevents the grease from flowing freely around the cooking area.

The front of the Flat Top also develops a very slight bow when heated to make it even more difficult for liquid to flow freely to the front of the Flat Top.

I hope this info helps!